Author's tour by Serge Okulov (French speaking Moscow tour-guide).
The tour is available in English or French.
The root to the old town of Zvenigorod through local churches and monastery (8-9 hour) could be done in one day. It is possible to do a part of that tour with shorter mileage and time.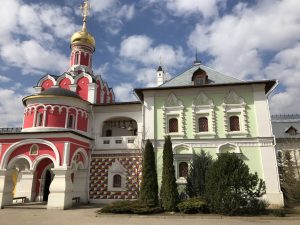 1ststop: the village Pavlovskaya sloboda. 22 km from Moscow Circular Road.
Visiting architectural ensemble in the former estate of the Morozovs boyars: stony chambers (living quarters), Annunsiation cathedral (1661), church of Iosif of Volotsk, cathedral of Saint Tsar's family Martyrs (Nicolas II and his family) and passion bearers (2004) and a chapel of Saints Equal to the Apostles Cyril and Methodius (2005).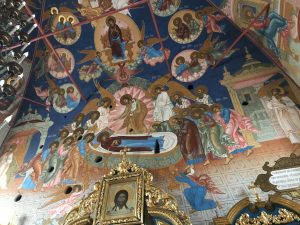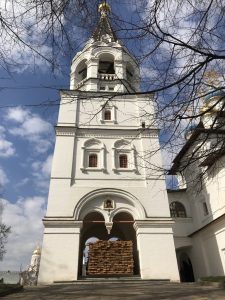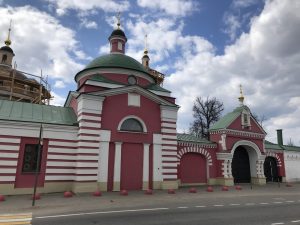 2nd stop (OPTIONAL): Village Anosino (+ 6 km) with a reconstructed monastery of Saint Boris and Gleb, founded by princess Meshcherskaya (1823).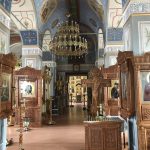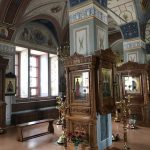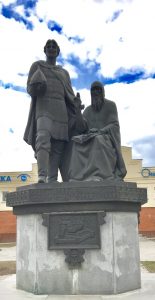 3rd stop: Zvenigorod(+ 22 km). Founded in 1152 by Yuryi Dologoruky. Driving around the old city streets, wooden and stony houses of the 18 -19 century.
Wooden building of the former hospital where Anton Chekhov worked as a physician. Visiting the Assumption of Our Lady cathedral on the Gorodok (limestone church, one of 5 oldest in the Moscow region, 1396, authentic pieces of frescoes by Andrey Rublev). Walk along the earthen ramparts on top of the medieval fortress.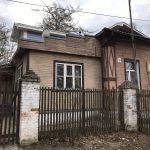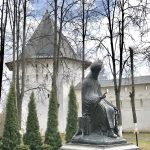 4th stop: Savvino-Storjevsky monastery (+ 3 km). Founded by Yuriy Dmitrievich of Zvenigorod in 1396. Ensemble of civil and religious architecture of the 15-19 centuries. (Entrance to the grounds is free, indoor exhibitions are paid.) Lunch in the cafeteria inside one of the fortified wall towers.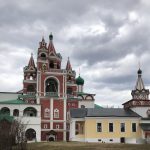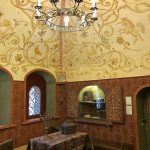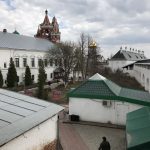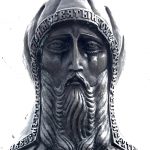 5th stop (OPTIONAL): Visiting Saint Savva priory
6th stop: houses of the New-rich Russian from behind the fence (no entrance) on the way back to Moscow (+ 4,5 km) along the Old Tsars road from Suzdal to Moscow – Rublevskoe highway (+ 46 km). On the way will see Nicolina Hill.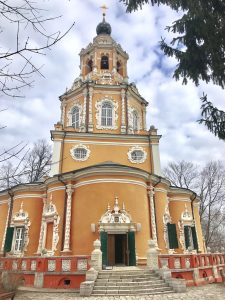 7th stop: in the village of Ubory – the former estate of the Dolgorukys prices. Visiting the Church of Christ the Savior not made by hands in the village Ubory (Moscow baroque style, late 17 century, architect Yakov Bukhvostov)
8th stop: Walk through the park of Arkhangelskoye – Moscow region Versailles – the former Golitsyns-Yusupovs countryside estate (entrance to the park charged; Palace and exhibitions opened till 5:30 pm, there is a cafe on the grounds).
9th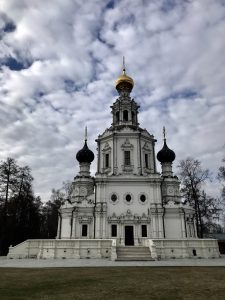 stop: Church of St Trinity in the village Lykovo (Moscow baroque style, late 17 century, architect Yakov Bukhvostov) – location within the borders of Moscow.
Moskva river embankment in front of Serebryaby bor park-reserve.
The end of the tour. Driving to the hotel.
The tour is worth going at any time of the year. The only difference is in winter when most of the Arkhangelskoye park sculptures are packed into opaque boxes.
Entrance fee is charged by museums.