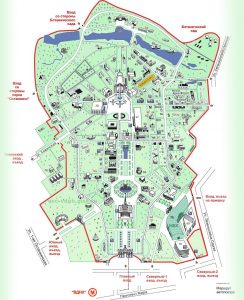 VDNKh (All-Union Exhibition of the National Economy Achievements) is a vast public park founded in the time of Stalin (1939) and later developed under Khrushchev and then Brezhnev. The area still keeps the atmosphere of the Soviet epoch and shows many state symbols of the USSR, unique sculptural  fountains, statures and grand pavilions designed in the national styles of all 15 republics of the former Soviet Union.
Among them there are famous statues:
– "Tractor-driver and collective Farmer" on the top of the entrance-archway by R. Budilov and A. Strekavin
– "Worker and woman-collective Farmer" by V. Mukhina (outside of the grounds)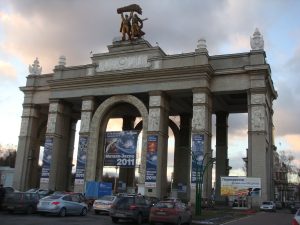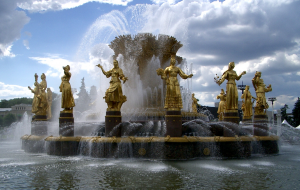 There are two vast fountains:
– fountain of Friendship of all Soviet Nations (with gilded statures)
– Stony-flower fountain (design is based on the subject of a Russian fairytale)
Here you can ride a segway or roller-skates to look around the area.
There is a fun train to drive you around and a Ferris wheel to overlook surroundings from the height of 73 meters (full revolution is done withing 7,5 minutes).
In summer time there are a lot of amusement rides like bungee jumping for kids, trampolining, carting etc.
Opened for visitors:Summer time (30 April — 28 September)Grounds: daily 9 am – 11 pm
Pavilions: daily 10 am – 7 pm, weekends and national holidays 10 am – 8 pm
Ferris Wheel 11 am – 10 pm
Winter time (1 October — 29 April)
Grounds: daily 9 am – 9 pm weekends and national holidays 10 am – 10 pm
Pavilions: daily 10 am – 6 pm, weekends and national holidays 10 am – 7 pm
Ferris Wheel 12 am – 7 pm
Official web page of VDNKh
Museum in the podium of Worker and Collective Farmer statue