Museum is closed for the fundamental restoration.
Founded in 1912 the Panorama-museum represents the largest battle of the Patriotic War of 1812.
The Battle of Borodino is regarded to be the bloodiest one among one-day battles in the whole history of humanity.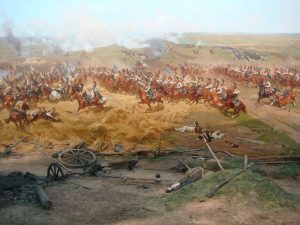 Opened for visitors:
Monday – Wednesday 10 a.m. – 6 p.m.
Thursday 10 a.m. – 8 p.m. (October – March), 10 a.m. – 9 p.m. (April – September)
Day off: Friday and last Thursday of each month.
Entrance fee 250 rub/person
For taking photos inside: 150 rub  
http://www.1812panorama.ru/english.html