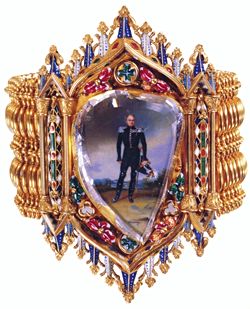 Visiting Diamond Fund Exhibition (15 min – 1 hour) could be a part of the Kremlin Tour or an independent site for visiting.
Diamond Fund museum shows the best part of the State collection of Russian diamonds, gemstones, semi precious stones, golden and platinum nuggets, jewelry of the Russian Royal family and modern jewelry of the 20th century;
It is located in the grounds of the Kremlin in the building of the Armory Chamber Museum.
Opened for visitors:
Friday – Wednesday 10:00 a.m. – 6:00 p.m.
Technical break 1 p.m. – 2 p.m.
Day off: Thursday
For self-attendance:
Tickets are to be purchased in the ticket office №4 and 5 in Alexandrovsky garden 9 am -4:30 pm, technical break 12-1 pm
Entrance fee 800 rub/person
School kids and students 100 rub/person
Kids under 7 – free admission
There is an audio-guide in foreign languages.
For Guided Tour:
Time of attendance should be booked and paid in advance.
Entrance fee 30 000 rub/group of 1-20 people.